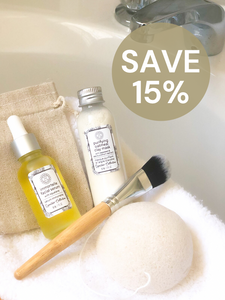 There's no one more deserving of some R&R than our mommies, and no easier way to evoke a spa-like experience in the comfort of your home than with our Home Spa Bundle. So go ahead, mommies, start pampering yourselves and enjoy 15% savings while you're at it!
For individual product details, visit the following pages:
Immortelle Facial Serum - Signature Collection
Purifying Oatmeal Clay Mask - Signature Collection
*This item is excluded from all sales and promotions.
HOW TO USE
1. Purify and detoxify your skin with the Purifying Oatmeal Clay Mask. Pour clay mask powder into a non-metal bowl and mix with water or any water-based solution until creamy consistency.
2. Using the Bamboo Facial Mask Brush, apply evenly to clean skin avoiding the eye area.
3. Soak the Pure Natural Konjac Sponge in warm water to soften. After 5 minutes or when the clay mask begins to dry and still feels moist, gently rinse off using the sponge with warm water. Do not wait until clay is fully dried and becomes flaky.
4. Immediately moisturize and nourish your skin to retain the soft and radiant complexion with the Immortelle Facial Serum.