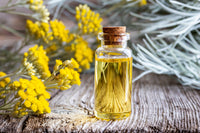 Our Signature Ingredient
Helichrysum Italicum is a rare, luxurious essential oil touted for its magical skin healing and rejuvenating properties,  thus awarded the name "Immortelle" or "Everlasting". Its therapeutic benefits, along with its grounding earthy floral scent decorated with a sweet honey overtone, make it the perfect ingredient for the November Blossom Signature Collection.
SHOP SIGNATURE COLLECTION
Our Mission
Empower you to show off you and your little one's skin with confidence.